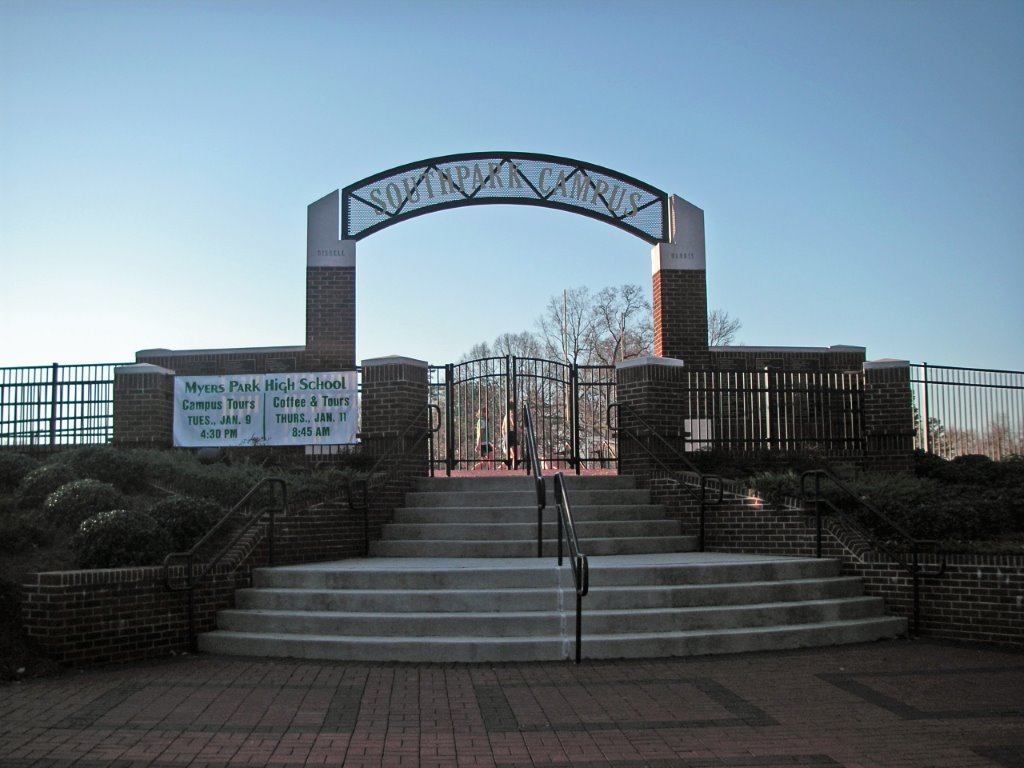 All three neighborhood schools make up the Southpark Campus. This area consists of 120 acres of wooded, hilly terrain crossed by two creeks and nature trails. These grounds are used for various athletic events as well as hands-on learning experiences. You will see neighborhood families utilizing the playgrounds, tracks and fields at these schools on a daily basis. The "campus" really provides a true community school environment.
Selwyn Elementary (Grades K thru 5th)
Alexander Graham Middle (Grades 6th thru 8th)
Myers Park High (Grades 9th thru 12th)
Student drop-off begins at 7:15 a.m.  The school day begins at 7:45 a.m. and ends at 2:45 p.m. Our convenient and affordable after school enrichment program is open until 6:00 p.m., and has earned North Carolina's 5-Star rating.
Selwyn's teachers are committed to providing individualized instruction to each of our students. Our Talent Development Program works in conjunction with the classroom curriculum to challenge those students who demonstrate an ability to perform at advanced levels. The Talent Development Program begins with identification testing in second grade, and continues through fifth grade.
The school day runs from 8:30 a.m. – 3:30 p.m. The school has a strong academic program, and many enrichment clubs and activities to choose from. Beginning in the seventh grade, students can try out for CMS team sports such as football, track, baseball, volleyball, soccer, etc. Alexander Graham has a very active PTO.
AG celebrated it's 100th anniversary in 2020.
Myers Park High School opened its doors in 1951, and has a rich sense of history and a legacy of academic success.  With a 62-acre campus and 13 individual buildings, students are able to learn in an environment similar to a small college.  For five consecutive years, the school has been ranked among the 100 best high schools in the United States by Newsweek Magazine.
Each student is recognized as an individual with an array of interests, talents and needs.  Advanced Placement (AP), International Baccalaureate (IB), and Honors courses are offered in most academic areas.  General courses and remedial instruction are also available.  In addition, the curriculum provides broad vocational offerings, including College/University Tech Prep, an Occupational Diploma, apprenticeships, career intern programs, and the Occupational Course of Study for Exceptional Education Students.  Art, photography, chorus, theatre, orchestra, marching band, debate, journalism, culinary arts and JROTC are strong components of MP's curriculum.